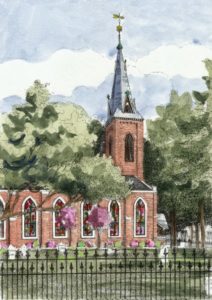 Craven Parish was one of nine parishes established in the Province of North Carolina in 1715. A church building was begun in 1739, and ten thousand bricks were baked for the new structure. The church, at the corner of Pollock and Middle Streets in New Bern, is of Norman design and is believed to have been finished around 1750. It was the first house of formal worship in the town (which was settled in 1710), and the Church of England embraced the congregation. In 1752, the vestrymen of Craven Parish appealed to the Society for the Propagation of the Gospel in England for a regular rector. Two ministers arrived in 1752, and, after a one-year trial, Rev. James Reed was formally installed as rector of the parish.
At the start of the American Revolution, Reed remained loyal to the Crown, as a missionary for the Society for the Propagation of the Gospel. Consequently, Reverend Reed and his salary were suspended by an act of the vestry in 1777. After the Revolution, when the first state constitution was adopted at Halifax in December 1776, the Anglican Church was formally disestablished in the State of North Carolina. The original church building was demolished in the wake of the Revolution, and a new and larger structure (again of Norman design, with a tower) was consecrated in 1824. The second building stood for more than forty years before being destroyed by fire in 1871. The church was rebuilt in 1873 (incorporating the remaining walls of the previous building), and consecrated in 1875. These later structures were located further back on the property than the original colonial-era building.
In 1967, the foundation of the colonial-era church was excavated and its outline restored. During the excavation, it was noted by landscape architect Morley J. Williams that the bricks used for the original church were identical to bricks used for the construction of nearby Tryon Palace in New Bern.
Credit: North Carolina Highway Historical Marker Program, part of the N.C. Department of Natural and Cultural Resources.