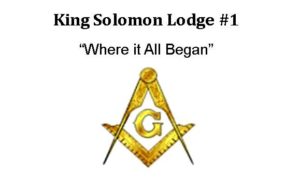 Organized in 1865 under the authority of the Grand Lodge of New York, King Solomon Lodge was the first Masonic Lodge for African Americans in North Carolina. The New Berne Daily Times on November 27, 1865, reprinted an account from the Anglo-African, a New York newspaper, indicating that Paul Drayton of the National Grand Lodge soon would travel south to dedicate the local New Bern affiliate. The report specified that the lodge had been established "some weeks ago." The New Bern newspaper took exception to the move, judging it to be a "gross insult" to white Masons and pointing to a requirement of Masonry that members be "free born."
Following King Solomon Lodge were Giblem Lodge in Wilmington, Eureka Lodge in Fayetteville, and Widow Son Lodge in Raleigh. The African American Masonic lodges operated under the auspices of the Grand Lodge of Ohio until March 1, 1870, when a convention was held at the Giblem Lodge in Wilmington to organize the Grand Lodge of Free and Accepted Masons for the State of North Carolina (Prince Hall). Bishop James Walker Hood was made the first Grand Master of the state.
King Solomon Lodge served as a foundation for black leaders in the community and state. It offered a network of communication, support, and fellowship and elevated members to political prominence. Members of the New Bern lodge included James O'Hara, legislator and Congressman; Henry P. Cheatham, Congressman; and George H. White, legislator and Congressman.
The King Solomon Lodge building was erected in 1870 on Queen Street. A grand ball was held on February 23, 1871, to celebrate the building's opening. It was reported in a local paper that the event "was largely attended and was a very enjoyable affair." In the 1920s the structure was moved a short distance to make room for the expanding Cedar Grove Cemetery. It now stands at 710 Howard Street in New Bern and retains some original features. King Solomon Lodge remains active and is significant to the Prince Hall Masons, and the African American community at large, as mother lodge in North Carolina.
Credit: North Carolina Highway Historical Marker Program, part of the N.C. Department of Natural and Cultural Resources.