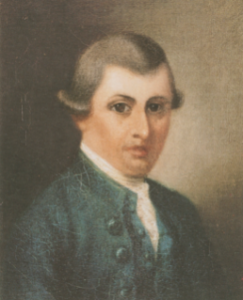 Samuel Cornell, a native New Yorker, moved to New Bern in 1754 and became a wealthy merchant. By the 1760s he had amassed a considerable fortune. Among his holdings were two plantations, one on the Neuse River and the other, formerly the property of Governor Arthur Dobbs, was on the Trent River. He lived with his family in a spacious town house in New Bern. To serve his mercantile operations, Cornell operated several warehouses, a retail store, and at least three sailing vessels. He also owned a rum distillery that was well-situated with brick buildings and copper stills.
Cornell's wealth is evident from documents related to the devastating hurricane that struck New Bern in 1769. His family narrowly escaped from their flooding home. Still, records indicate that the floor of the home caved in, that all of his furniture was either broken or washed away, and that among the items stored in basement that was flooded were two hundred hogsheads of molasses, eighty hogsheads or rum, and several pipes of wine. Likewise Cornell's store was destroyed "with all the Goods and Money," and one of his ships was washed over the marshes and into the woods. His losses alone were estimated at £5000, or approximately one-fourth of the total losses in New Bern.
In 1769 and 1770, as one of the wealthiest and most influential men in the colony, Cornell loaned substantial amounts of money to the government, underwriting the construction of a new governor's house in New Bern. That residence became known as Tryon Palace. Governor William Tryon referred to Cornell's generosity in a 1770 letter to the Earl of Hillsborough. Tryon stated that Cornell was "about forty years of age, of a very genteel and public spirit" and "a merchant of the first credit and fortune in the province." As such a fine and generous citizen, Cornell was recommended to fill a vacant slot on the Governor's Council.
An ardent supporter of the royal government, Cornell seized another opportunity in 1771 to lend cash to North Carolina. He provided "large sums of money" to finance a military expedition to put down the Regulator rebellion. In addition to his loan, Cornell also sold to the colony £483 in supplies for the troops. An active participant in the Battle of Alamance, the engagement that culminated the expedition, Cornell was wounded in the thigh.
By 1775 Cornell feared that he would be asked to subsidize revolutionary activities, with the permission of Governor Josiah Martin, moved to New York. Hoping to keep his real and personal property in North Carolina from being confiscated by the government, Cornell sailed to New Bern in 1777. With the cooperation of Governor Richard Caswell, he was allowed into town under a flag of truce long enough to collect some of his goods and servants and to register deeds of gift transferring his North Carolina property to three of his daughters. His will, probated in 1781, specifically mentioned his holdings of proclamation money of North Carolina.
The North Carolina government confiscated Cornell's property despite his efforts and sold it shortly thereafter. In 1787 Elizabeth Cornell Bayard sued Spyers Singleton to recover the Cornell homeplace on lot 10 in New Bern. The case, known as Bayard v. Singleton, set the American precedent for judicial review, and is considered milestone in legal history.
Cornell's bundles of proclamation money, mentioned in his will, apparently remained in the family until 1913 when they were offered, along with papers relating to the litigation over the confiscated property, to the New York Public Library. The papers were published that year as "Papers Relating to Samuel Cornell, North Carolina Loyalist." In the 1970s the library sold the currency in its entirety to a dealer, who put half of the collection up for sale. The other half, representing about forty percent of Cornell's original stockpile and the last remaining intact portion, is now part of the Colonial Williamsburg numismatic collection thanks to an anonymous donor.
Credit: North Carolina Highway Historical Marker Program, part of the N.C. Department of Natural and Cultural Resources.