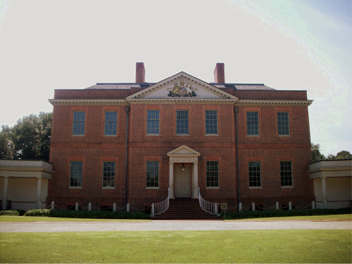 There are few places where the present meets the past in such luxury and decadence as Tryon Palace in New Bern. Named for colonial governor and first resident William Tryon, the mansion housed the last colonial governors and the first state governors. Tryon Palace not only stands as a reminder of North Carolina's rich historical legacy, but also represents the first major public history restoration project, a historic site that allows the people of North Carolina to interact with their past.
The first governor's mansion in North Carolina was unlike any other structure in the region. Designed and built by Englishman John Hawks, considered by many to be the first professional architect in America, the Palace originated with planning began in 1766 and with construction commencing on August 26, 1767. Hawks designed the mansion in the Georgian style, with a heavy English influence of symmetry and balance. With construction complete in 1770, the Tryon family was in residence less than two years, when William Tryon left to assume duties as governor of New York.
Tryon Palace served as the backdrop for the transformation from colony to statehood. In May 1775, then Royal Governor Josiah Martin fled as patriot forces approached New Bern. After the first state constitution was ratified in November of 1776, the first state governor, Richard Caswell, occupied Tryon Palace. Successive governors Abner Nash, Alexander Martin, and Richard Dobbs Spaight resided in Tryon Palace until Raleigh became the new capitol in 1794. Tryon Palace also hosted George Washington on the night of April 21, 1791, during his southern tour. After a cellar fire destroyed all but the kitchen and stable offices in 1798, most of the original land was utilized in highway and housing developments.
In the latter part of the first half of the twentieth century, public interest and private donations convinced the state to consider the feasibility of restoration, a project the Tryon Palace Commission began in 1945, and concluded in 1959 when the palace, restored to the original design, opened as a public museum. With gardens showcasing over eighty types of flora across fourteen acres, and interior furnishings inspired by original period pieces, Tryon Palace remains a tribute to North Carolina's enduring historical legacy.
Credit: North Carolina Highway Historical Marker Program, part of the N.C. Department of Natural and Cultural Resources.