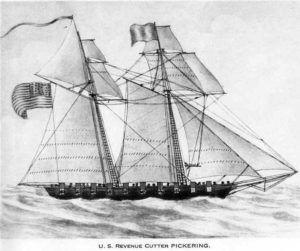 The United States Coast Guard had its beginnings in 1790 as the United States Revenue Marine (the named was changed in 1863 to Revenue Cutter Service and in 1915 to Coast Guard). Alexander Hamilton, Treasury Secretary under Pres. George Washington, on April 23, 1790, proposed to Congress that a fleet of ten cutters be built and manned to counter the threat posed to the revenue by smuggling. One vessel was to be used in waters off North Carolina. The bill passed on August 4 and the following year the ships were built. Until the Navy Department was organized in 1798, the fleet constituted the only U.S. fighting force afloat.
Working with Hamilton were John Daves, port collector at New Bern, and Nathan Keais, port collector at Washington, North Carolina. Correspondence indicates that, despite a shortage of materials and supplies, the ship Diligence sailed to New Bern in February 1792 where it was fitted out and commissioned in late June or early July. In command was Capt. William Cooke, whose appointment by George Washington was issued in April 25, 1791, during the president's southern tour.
The USRC Diligence was transferred to Wilmington in October 1792 where it was in service until 1798. In 1793 Captain Cooke and his crew charged François Henri Hervieux of the le Vainqueur de la Bastille with a breach of revenue laws and seized their cargo of $40,000 in gold. The Diligence was replaced by another ship bearing the same name in 1798. In November of that year the first revenue cutter stationed in North Carolina waters was auctioned off for $310.
Credit: North Carolina Highway Historical Marker Program, part of the N.C. Department of Natural and Cultural Resources.